Introduction
The smartphone industry is no stranger to innovation. Year after year, manufacturers strive to outdo each other by introducing groundbreaking features and improvements. Among the top contenders, Apple has consistently pushed the boundaries of what a smartphone can do with each new release. The iPhone 15 Pro and Pro Max are no exceptions, and they come packed with astonishing features that promise to revolutionize the way you use your phone.
In this comprehensive review, we'll delve into the world of the iPhone 15 Pro and Pro Max, exploring the remarkable features that set them apart from their predecessors and competitors.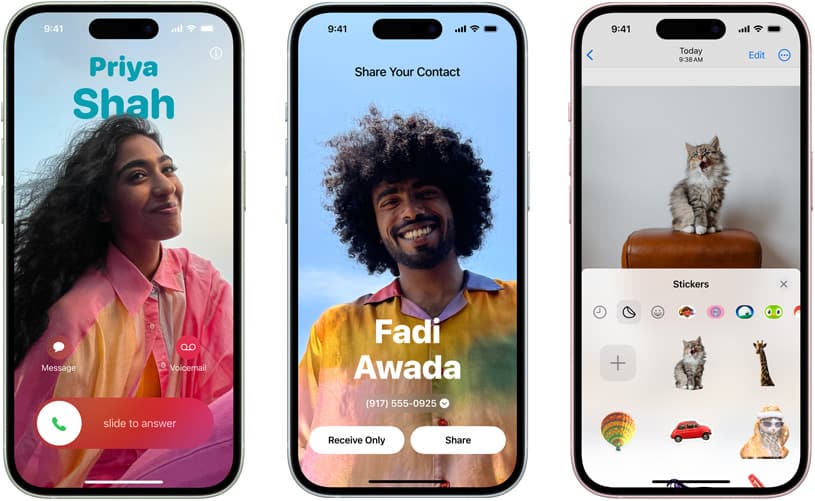 Design and Build: Aesthetic Excellence
A Lighter Touch
One of the first things you'll notice when you hold the iPhone 15 Pro and Pro Max is their weight—or rather, the lack of it. These new models are noticeably lighter compared to their predecessors, thanks to the use of a cutting-edge titanium alloy for the phone's exterior. Weighing in at just 19 grams less than the previous models, this change may seem minor, but it makes a world of difference in terms of comfort during prolonged use.
Sleeker and Slimmer
Apple has always been synonymous with sleek design, and the iPhone 15 Pro and Pro Max continue this tradition. While the display sizes remain the same—6.1 inches for the 15 Pro and 6.7 inches for the Pro Max—slimmer bezels give these phones a more modern and refined look. The result? A device that's not only lighter but also noticeably nicer to use.
A Palette of Muted Elegance
In the realm of color options, the iPhone 15 Pro and Pro Max offer a muted yet sophisticated selection. Choose from natural titanium, white titanium, black titanium, or the standout choice, blue titanium. While these options may seem subdued, they exude an air of understated elegance that complements the phone's premium feel.
Connectivity: Embracing USB-C
The USB-C Revolution
One of the most significant changes in the iPhone 15 Pro and Pro Max is the adoption of USB-C. This marks a substantial departure from Apple's longstanding use of the Lightning port. With USB-C compatibility, users gain more flexibility and convenience. No longer bound to proprietary cables, you can now connect your iPhone to a wide range of USB-C accessories, hubs, and chargers. This shift is a welcome change for many users who have longed for a more universal connection standard.
USB 3 for Speedy Data Transfers
For users who demand fast data transfer speeds, the iPhone 15 Pro and Pro Max deliver with USB 3 support. While the included USB-C cable may not support the maximum 10Gbps transfer speeds, investing in a compatible cable is an easy and affordable solution to harness the full potential of this feature.
The Action Button: A Customizable Gem
Reimagining the Mute Switch
Apple's innovation doesn't stop with USB-C. In place of the traditional mute switch, the iPhone 15 Pro and Pro Max introduce the Action Button. By default, this button handles muting and unmuting your phone's sounds. However, its real magic lies in its customizability. Users can assign various functions to the Action Button, such as activating the flashlight, launching the camera app, or enabling a Focus mode. The possibilities are virtually endless, as you can even program shortcuts to tailor the button's behavior to your specific needs.
Haptic Feedback: A Subtle Touch
While the Action Button brings newfound versatility, it comes with a slight adjustment in terms of user experience. Unlike the instantaneous flip of the mute switch, the Action Button's actions occur with a long press, creating a brief delay. Additionally, there's the potential for confusion between the Action Button and volume control, as both require a long press. However, these minor inconveniences are outweighed by the button's customization capabilities, offering users more control over their device.
Power and Performance: The A17 Pro Chipset
A17 Pro: More Than Just a Name
The heart of any smartphone is its chipset, and the iPhone 15 Pro and Pro Max boast the A17 Pro, a powerhouse SoC (System on Chip) that signifies Apple's commitment to performance. While the "Pro" branding may be somewhat ambiguous, it's clear that this chipset is optimized for gaming and demanding tasks. The A17 Pro's all-new GPU introduces hardware-based ray tracing, elevating mobile gaming experiences to new heights and bringing console-like graphics to your handheld device.
Gaming without the Heat
One of the standout features of the A17 Pro is its ability to handle gaming without overheating. During extensive gaming sessions, the iPhone 15 Pro Max impressively manages to stay relatively cool, which is a rare feat for a mobile device. However, the phone can get warmer when recording video or engaging in resource-intensive tasks. Unfortunately, when connected to an external display, the device only offers mirroring capabilities, missing the opportunity to provide a full desktop experience.
Connectivity and Battery Life: Future-Ready Technologies
5G and Wi-Fi 6E
In the realm of connectivity, the iPhone 15 Pro and Pro Max come equipped with all the usual flavors of 5G. While Qualcomm's new X70 modem promises faster speeds, real-world improvements may be challenging to discern. Additionally, for the first time in an iPhone, the inclusion of Wi-Fi 6E is a notable upgrade. Operating at 6GHz, Wi-Fi 6E offers impressive speeds, though signal propagation through obstacles is less effective. Users can toggle between "off" and "automatic" modes, allowing the phone to switch to 2.4 or 5GHz signals when needed.
A Mixed Bag of Wi-Fi Performance
In practice, Wi-Fi 6E performance can be somewhat inconsistent. In optimal conditions, where synchronous gigabit internet service and Wi-Fi 6E routers are in place, the iPhone 15 Pro can deliver impressive upload and download speeds. However, it may overly cling to the 6GHz network, resulting in slower speeds when moving to areas with weaker signals. An indicator specifying the active Wi-Fi flavor would be a valuable addition for users to monitor their connection status more easily.
The Action Button: A Customizable Gem
The Portrait Mode Afterthought
Apple introduces a new way to capture portrait mode photos on the iPhone 15 Pro and Pro Max. The camera automatically saves depth information whenever it detects a face, cat, or dog in the frame. Even when tapping to focus on a specific area, the depth information is recorded. Users can apply the portrait mode effect after taking the shot, allowing for post-capture adjustments to the depth effect and focus on different subjects. This feature is particularly handy when you're in a hurry and don't want to miss a crucial moment while fumbling with settings.
Camera Enhancements: A Leap Forward
A Versatile Camera System
The camera system on the iPhone 15 Pro and Pro Max undergoes substantial improvements. While the primary camera retains its 48-megapixel sensor with an f/1.8 aperture, the standout addition is the 5x telephoto lens on the Pro Max model. This lens provides meaningful zoom capabilities, allowing users to capture distant objects with clarity and precision. The 2x crop zoom option further enhances flexibility and eliminates the redundancy of a 3x lens
.
The Night Sky Comes Alive
Apple's commitment to improving night photography is evident in the iPhone 15 Pro and Pro Max. The new ProRAW+ mode combines multiple exposures to produce stunning low-light images. A significant leap forward in computational photography, this mode delivers astrophotography results that were previously only achievable with DSLRs and dedicated astrophotography gear. The ProRAW+ mode works in tandem with the Night Mode, ensuring that your nighttime shots are nothing short of spectacular.
Display and ProMotion Technology: A Feast for the Eyes
ProMotion Display: A Game Changer
Apple's ProMotion display technology is not new, but it makes a triumphant return in the iPhone 15 Pro and Pro Max. This feature, which offers a variable refresh rate of up to 120Hz, is a game-changer for those who value smooth scrolling and fluid animations. Whether you're browsing the web, playing games, or simply navigating your device, the ProMotion display elevates the user experience to a whole new level.
Adaptive ProMotion: Smarter Than Ever
What sets the ProMotion display apart in the iPhone 15 Pro and Pro Max is its adaptive nature. The phone intelligently adjusts the refresh rate based on the content being displayed. When viewing static images or reading text, the display scales down to save battery life. However, the moment you start scrolling or engage in any interactive content, it instantly ramps up to 120Hz, delivering that coveted smoothness without draining your battery unnecessarily.
Battery Life: All-Day Stamina
Optimized for Endurance
The iPhone 15 Pro and Pro Max prioritize battery life without compromising on performance. The A17 Pro chipset is power-efficient, and the Pro models boast larger batteries than their predecessors. These enhancements result in impressive all-day battery life, even with heavy usage. Casual users can expect their phones to last well into the evening, while power users will appreciate the ability to push their devices to the limit without constantly hunting for a charger.
Fast Charging and MagSafe
Apple continues to support fast charging, offering a 30W USB-C power adapter for quick top-ups. Additionally, MagSafe is present, allowing for convenient attachment of various MagSafe-compatible accessories, including wireless chargers and wallets.
Conclusion: A Remarkable Evolution
The iPhone 15 Pro and Pro Max are unmistakably evolutionary steps forward in Apple's smartphone lineup. With astonishing features like the A17 Pro chipset, a versatile camera system, ProMotion display technology, and an adaptable Action Button, these devices promise to change the way you use your phone.
While some minor quirks exist, such as inconsistent Wi-Fi 6E performance and the learning curve of the Action Button, the overall experience is nothing short of exceptional. Apple's dedication to pushing the boundaries of what a smartphone can achieve shines through in these models.
If you're looking for a smartphone that combines power, innovation, and elegance, the iPhone 15 Pro and Pro Max are undoubtedly worth considering. Their astonishing features truly set them apart and have the potential to redefine the way you interact with your phone. Prepare to be amazed by the future of mobile technology.
Comments
comments